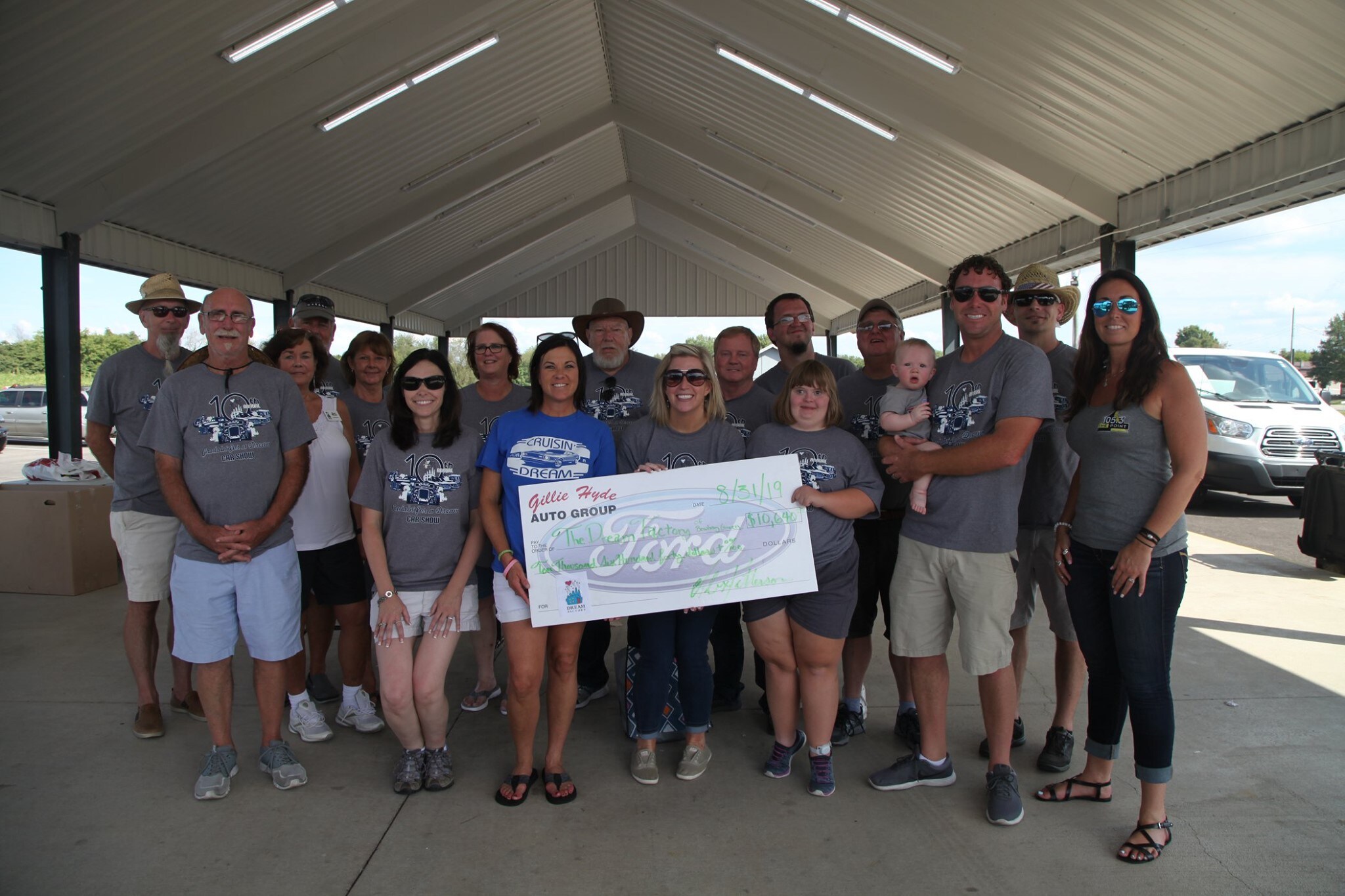 Community, it's what surrounds us and makes us who we are. Here at Gillie Hyde Automotive, our community is our family. We invite you to be a part of it! What fun would it be to keep exciting announcements and dealership happenings to ourselves? The answer? It would be no fun what-so-ever for us or our neighbors. That is why we actively update our Facebook and Instagram accounts with the latest and greatest news. Check out all of the fun and impactful things we are doing around Glasgow, Kentucky. Be sure to follow us on Instagram @gilliehydeautogroup and Facebook at Gillie Hyde Auto Group. 
Our Customers, Our Family
Every vehicle purchase is special at Gillie Hyde, and we strive to show our customers that they truly are the superstars of our dealership. We have dedicated a whole section of the Facebook page to highlight them. Sometimes, this comes in the form of a shared post where they tag us, and other times their sales professional will snap a quick picture and post it. Regardless of how it gets to us, we love seeing the smiling faces and reading the stories of what brought them to our Bowling Green dealership. 
Salvation Army Angel Tree at Gillie Hyde
For years, the greatest joy of our year kicks off in November and concludes the first week of December. We proudly partner with our local Salvation Army to be an Angel Tree location. If you are unfamiliar with how the Angel Tree works, let us explain. Each angel on the tree represents a child in need from right here in our Barren County community. The children get to write down their Christmas wishes, and everyday folks, like you and us, select an angel to fulfill the desires of. There are over 900 angels in our community alone! Regardless of if you meet the wishes on your own or join together to neighbors or friends to 'adopt and angel,' we thank you. 
A hometown dealer, that has a nice ring to it
At Gillie Hyde Auto Group, we believe in the mission of treating customers with dignity and rewarding loyalty. After all, we know a thing or two about loyalty. Our dealership group has been family owned and operated for over 65 years! The same principles that were the building blocks that Mr. Gillie Hyde founded his dealership on remain cornerstones today. We indeed are a dealership that is of the people. 
Many dealers can claim to be 'hometown dealers,' but to truly live up to this accolade means having been invested in the local community for years and understanding what makes the residents bestow their trust to a business. Gillie Hyde Automotive has been located at the same address since the mid-1900s. For all of these years, both Mr. Hyde, his son Mike, and their entire family have invested in the Glasgow community forging a path of trust and acceptance. 
Today, the dealership is proud to offer still the same hometown, family experience that Mr. Gillie Hyde established in 1953. 
Don't miss out on a minute of the happenings here at 610 Happy Valley Road, Glasgow, Kentucky 42141! Please give us a follow on Facebook and Instagram and check out the latest posts.

2020 Gillie Hyde Auto Ad Design Contest
At the beginning of 2020, Country Peddler invited high school students from the Bowling Green, KY area to submit Automotive Ads to be featured Volume 48 No.21 and 22. The winners, announced January 15, all designed ads for Gillie Hyde Auto Group. Check out their artwork below and in the Country Peddler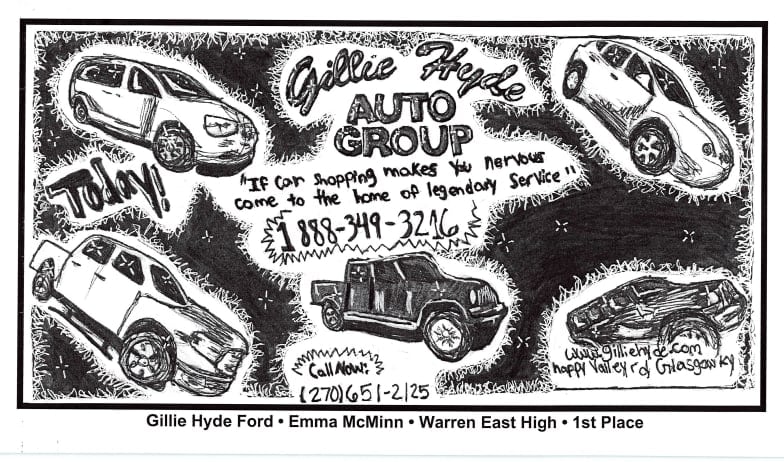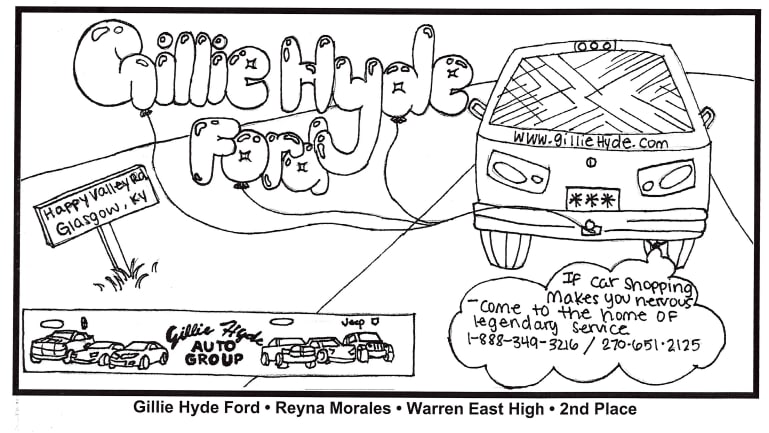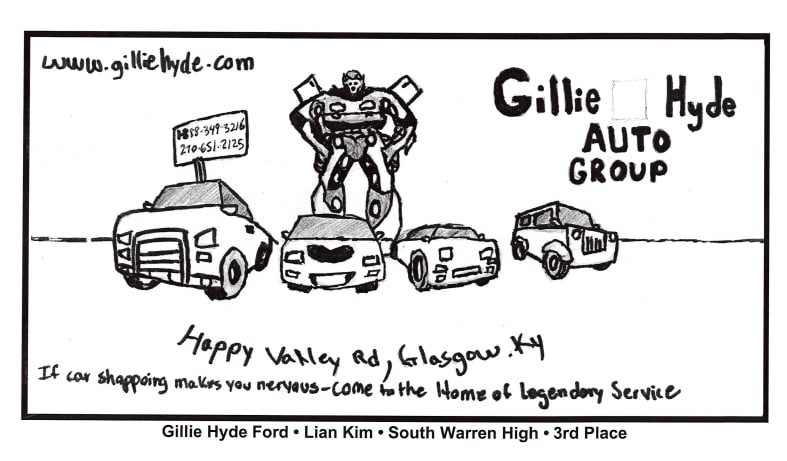 Hours
Monday

8:00 am to 6:00 pm

Tuesday

8:00 am to 6:00 pm

Wednesday

8:00 am to 6:00 pm

Thursday

8:00 am to 6:00 pm

Friday

8:00 am to 6:00 pm

Saturday

9:00 am to 4:00 pm

Sunday

Closed