Looking for reliable used SUVs, minivans, and crossover vehicles with three-rows of spacious seating? You've come to the right place! At Gillie Hyde Auto, we've created an entire inventory page of 3-row crossovers, minivans, and SUVs to help you find the best solution for your needs. Browse our inventory of used three-row vehicles for sale in Glasgow and give us a call at 888-621-5047 or complete our online contact form.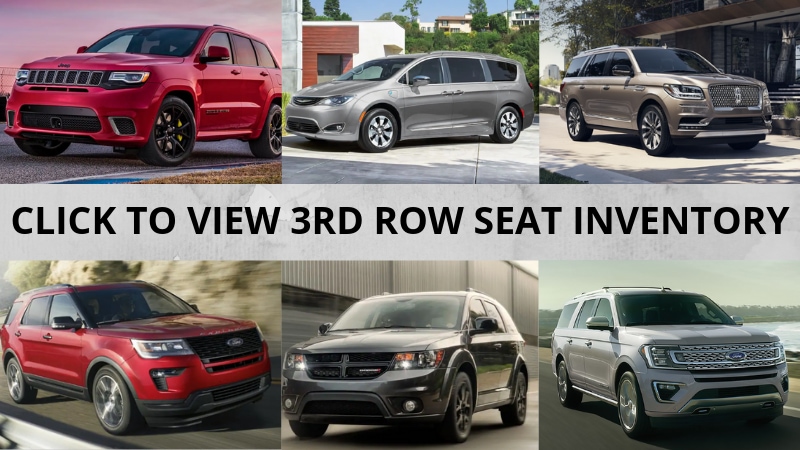 3-Row Small and Mid-Size Crossovers
If you have a few kids and live in a congested area, our three-row small and mid-size crossovers may be the best solution. These vehicles boast the maneuverability and driving experience of a sedan with the flexibility and versatility of an SUV. You can find small and mid-size three-row crossovers from virtually every manufacturer at Gillie Hyde Auto Group. Before you decide on a full-size SUV or a minivan, make sure to check out some of top-selling 3-row crossovers: 
Hyundai Santa Fe 
Mitsubish Outlander 
Honda Pilot 
Nissan Pathfinder
Dodge Journey
Kia Sorento 
Mazda CX-9 
Ford Explorer 
Acura MDX 
Chevrolet Traverse
Nissan Rogue
Toyota 4Runner
Toyota Highlander
And more
Don't know where to start? The experts at Gillie Hyde Auto Sales offer decades of experience and will match your unique needs to the best three-row crossover vehicle.

Full-Size, Large SUVs for Sale with 3rd Row in Glasgow & Bowling Green
If you feel your family has already outgrown a mid-size crossover, are a taller individual, or plan on venturing off road, a large 3 row SUV may be suitable for your needs. In addition to offering more space, most large, full-size SUVs offer a more rugged construction. These vehicles are typically built on the chassis of a truck, instead of a chassis of a car like mid-size crossovers, which lends itself to a higher towing capacity. At Gillie Hyde Auto Sales, we typically offer a long list of different full-size, large three-row SUVS, including:



Ford Expedition 
Chevrolet Tahoe 
Chevrolet Suburban 
GMC Yukon
Dodge Durango

Toyota Sequoia
Nissan Armada 
Lincoln Navigator 
And more
Even if you didn't see the exact full-size, three-row SUV you're looking for, we can still help. We have access to a national network of partnering dealers, so we can search the nation to find you the perfect solution.
Three Row Minivans for Sale in Bowling Green & Glasgow
If a full-size SUV lacks the versatility and cargo space you need, you'll find ample utility in a three-row minivan. In addition to more cargo space with all seats erect, minivans traditionally will offer more space for the family across virtually every facet. For example, the Chevy Suburban is one of the largest full-size SUVs - offering approximately 120 cubic feet of cargo space with all of the seats laid flat. 




However, the Honda Odyssey boasts an expansive 150 cubic feet of cargo space with all of the seats folded flat. Best of all, we usually offer a full fleet of different three-row minivans for virtually every family's need, including: 



Toyota Sienna
Honda Odyssey
Dodge Grand Caravan 
Dodge Town and Country

Chrysler Pacifica
Nissan Quest
And More 

Contact Gillie Hyde Auto Sales for 3-Row Vehicles
If you're in the market for a spacious three-row crossover, three-row SUV, or three-row minivan, Gillie Hyde Auto sales will meet your needs and exceed your expectations. Give us a call today at 888-621-5047 or complete our online contact form.