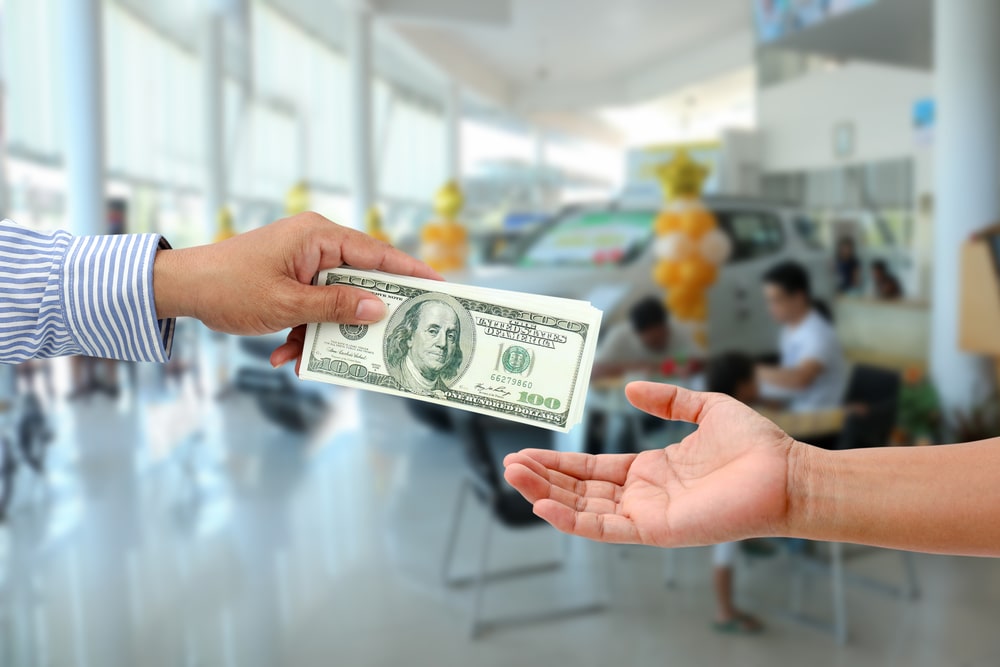 Your boss just gave you a promotion with more money and more travel.   
Hooray! Good for you!   
But -- lots of travel. Not so good. The sports car you bought with the big engine and tight sports suspension is not going to be the ideal road vehicle. Too much fuel expense.   
You need to trade-in your present vehicle for one that's more appropriate to your new situation, but you're still paying on it. What are you going to do?   
Fear not! This situation happens to car and truck owners every day in vehicle dealerships across the nation. At Gillie Hyde Auto Group in Glasgow, Kentucky, we find our customers in this situation all the time. We have 25 banks to help us help finance any vehicle, especially for those trading in a vehicle with payments still owed.   

There are two different scenarios. Let's examine both.  
When Money Owed on Your Trade is Less Than Its Trade-In Value
You only have a few more months to pay on your trade-in, totaling $1,000. You visit us at Gillie Hyde Auto Group and land on a beautiful new Chevrolet Tahoe for your weekly road trips for your new promotion. It costs $60,000. The 2013 Corvette you're trading in is appraised at $41,000.   




So, here's how it works.   




You trade-in your Corvette. We pay off the remainder of your loan, $1,000. That still leaves $40,000 in trade-in equity, which goes toward your new Chevy Tahoe at $60,000.     




$60,000 for Chevy Tahoe - $40,000 Trade Equity = $20,000 Left to Finance     




We contact our banks to get you the lowest interest rate and finance the remaining $20,000 for the Tahoe.   




The deal is done.   




Everybody is happy. You get a new, more road-worthy vehicle. The finance company for the Corvette gets paid off. The bank lends you money for your new Tahoe. And a Tahoe is sold.   




This is generally what happens when someone brings in a trade they still owe money on to buy another vehicle.   




It's simple, easy and happens every day.   




You can, of course, put more money toward the Tahoe, which would leave less to finance.   




Or you could theoretically put all of the $20,000 toward the purchase and not finance anything.  



This is totally your choice.  
When Money Owed on Your Trade is More Than Its Trade-In Value
There is another scenario, too, one in which you owe more money on your present vehicle than it's worth. This is sometimes called being upside down on your loan.   




Let's say you bought your Corvette last year. You still owe $65,000 on it, but because of depreciation, the Corvette is only worth $50,000. You're upside down by $15,000.   




Now, you still need that new Tahoe. It's still $60,000.   




The dealership must pay off all the money you still owe on the 'Vette, which is $65,000. Becuase it's only worth $50,000, that $15,000 upside down difference has to be included in the cost of the Tahoe deal. This increases the amount of the deal to $75,000.                    




$50,000 Equity - $65,000 Still Owed = - $15,000 Upside Down                  




$60,000 for Tahoe + $15,000 Upside Down = $75,000 Total Cost     




If you wanted to finance, it is doubtful that a finance company would finance the entire $75,000. You would, most likely, have to pay some or all of that $15,000 yourself, because financial institutions just don't typically make loans for more money than a vehicle is worth.   




You should try to avoid this situation, if at all possible. But, sometimes you can't.   




You do have other options.   




Maybe, you need to keep your Corvette until paid off.   




Or, maybe you need to refinance it.  
Either Way, Gillie Hyde Auto Group Can Help
Gillie Hyde Auto Group can help with that, too. We work with 25 banks in the Glasgow, Kentucky area and around the country. If anyone can do it, Gillie Hyde Auto Group can make it happen for you.   




Just contact us and we'll let you know how we can help you buy a vehicle, even if you still owe money on your trade.